GETTING YOUR BUSINESS OUT OF NATURAL DISASTERS.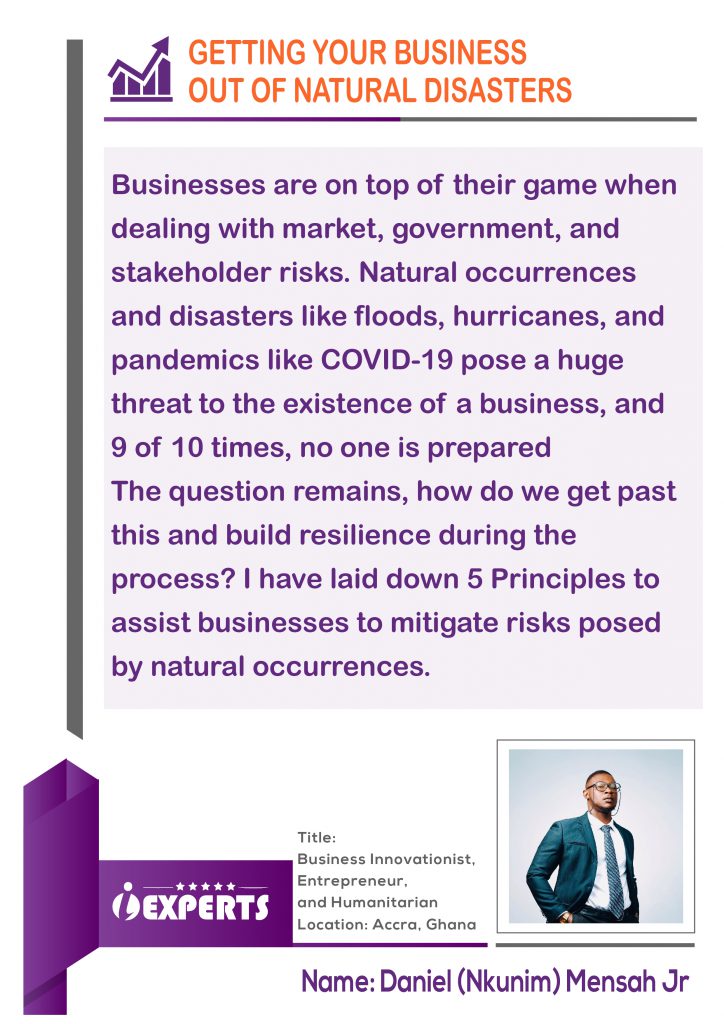 More often than not individuals tend to shy away from organizations that do not have a contingency plan to mitigate the risks natural occurrences pose.
Businesses are on top of their game when dealing with market, government, and stakeholder risks. Natural occurrences and disasters like floods, hurricanes, and pandemics like COVID-19 pose a huge threat to the existence of a business, and 9 of 10 times, no one is prepared.
The question remains, how do we get past this and build resilience during the process? I have laid down 5 Principles to assist businesses to mitigate risks posed by natural occurrences.
1.The Situation:
Businesses have to be aware of what they are dealing with and how long will it stay. They need to have detailed insight into events and issues. By this, business owners will be able to plan accordingly and implement strategies that will help build resilience.
2.The Plan:
Understanding the problem is one stage, building sustainable strategies is another. Businesses need to put in place strategies that will help solve the actual problems they face based on the insights derived from the magnitude of the problem in question. These strategies must be able to guide them through all the faces of the natural occurrence. They must be adjustable and tailored to help mitigate both internal and external challenges.
3.The Market:
Businesses need to be aware of what is happening in the industry and how prepared they are. These insights would help them know and understand the mindset of your competitors and your industry in general. Your posture is to leverage on the knowledge and use them to create solutions that will keep you in business.
4.The Customer:
The heart of your business is the value you deliver and how it solves the problems of your customers. You are in business because of the experiences you create around your brand and solutions. In times of events such as COVID-19, the needs of customers change and their purchasing abilities plunge.
This is the time to show the human side of your business to make your customers and prospects know and understand that you have their best interest at heart.
5.The Solutions:
Knowing and understanding what is important to your customers, businesses need to create solutions that will address these needs in these difficult times. Customer lifetime value is the heartbeat of your business so there must be solutions that encompass the overall state of customers at different times. You could create a totally new product line to help them get through it. Remember, you are in business because of them.
Risks come in various ways and natural occurrences are the ones with the heaviest magnitude. Understanding these principles would kickstart you and your business to super survival mode. Good luck in these difficult times.
Name: Daniel (Nkunim) Mensah Jr
Title: Business Innovationist, Entrepreneur, and Humanitarian
Location: Accra, Ghana